Oficiálním jazykem konference je angličtina.
Během konference bude zajištěn simultánní překlad (AJ <=> CJ).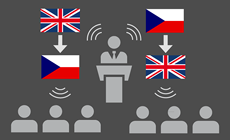 Ke stažení

Aktuality
04.05.2015
Termín pro zaslání anotace příspěvku a předběžné přihlášky k účasti na konferenci byl prodloužen
— 17. května 2015
11.02.2015
Elektronický systém podání abstraktů je v provozu >> prosíme zašlete Váš abstrakt.
11.09.2014
Nová stránka přidána — Fotografie Prahy

Registrace
Registration fees

Early


paid by
July 1, 2015

Late


paid after
July 1, 2015
Participant*
270 €
330 €
Members of supporting
organizations*/**
230 €
330 €
Each additional paper
30 €
Not available
Full-time research
student */***
180 €
230 €
Dinner for
accompanying person
60 €
70 €
* Includes: Access to the Conference, Conference Proceedings, Coffee Breaks, 2 Lunches, Conference Dinner
** CTU, CKAIT, CBS
*** a Copy of Student ID is Required
**** Accompanying persons have no entrance to the Exhibition area and Scientific sessions.
For the fees in CZK please contact terezia.nemcova@fs.cvut.cz.
CANCELLATION TERMS AND CONDITIONS
Notification of cancellation must be made in writing (emailed or faxed) to the Conference Secretariat.
Registration cancellations will be accepted with a refund as follows:
before 31 July 2015 will be subject to an administration charge of EUR 20
from 31 July to 12 August 2015 — 50% refund
on 10 August 2015 and later — no refunds will be given.
Substitutions may be made at any time without an extra charge. If you wish to substitute a registered participant, please contact the Conference Secretariat at the earliest opportunity.
The Conference Organisers cannot be held responsible for registration cancellations if a Visa application is denied.
VISA INFORMATION
Please visit this website for more information whether you should obtain a visa.
The process of visa requests might take considerable time at Czech consulates and embassies and therefore you should apply for your visa at least 3 months before the conference takes place.
For full details about visa requirements and application procedures, visit an official web site of Ministry of Foreign Affairs of the Czech Republic.
Official letter of Invitation to obtain a Visa
Since your visa request needs to be accompanied by a registration confirmation, you can ask for the Letter of Invitation in your on-line registration. Please note this letter is not a commitment on the part of the organisers to provide any financial support.