The official language of the conference will be English.
Simultaneous interpretation will be arranged for the main sessions. (CZE <=> ENG)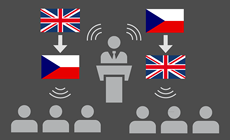 Latest
News&Events
14.08.2017
31.05.2017
22.04.2017
The conference is also held for the commemoration of the 80th birthday of Professor Zdeněk P. Bažant, who will give one of the keynote lectures.
23.03.2017
Prof. Dr. Peter JM Bartos will start FC2017 with the keynote speech — Glassfibre Reinforced Concrete: principles, production, properties and applications.
10.01.2017
Proceedings of previous conferences
07.01.2017
21.12.2017
29.11.2017

Programme
DOWNLOAD: Conference programme (Last update - August 14, 2017)
September 13, 2017 (Wednesday)
17:00
18:00

Registration – Faculty of Civil Engineering

September 14, 2017 (Thursday) – hotel DAP
8:00
8:45

Registration + Arrangement of poster session + Oral presentation setup

8:45
12:30

Opening and welcome speech; Keynote lectures; Session 1

12:30
14:00

Lunch

14:00
17:30

Session 2; Session 3

19:00
-

Conference Dinner - The Dominican Monastery at St. Jiljí Church – Baroque Refectory

September 15, 2017 (Friday) – hotel DAP
9:00
14:30

Session 4; Poster Session; Session 5; Closing ceremony; Lunch

September 16, 2017 (Saturday)
10:30
-

Technical Tour
Technical Tour - Emmaus Monastery - September 16, 2017
Price 10 €
Prague historical monuments often incorporate architectural styles since gothic times to modern period. Technical visit will bring participants to such place — Benedictine monastery was founded by Emperor Charles IV in the 14th century. There are elements dating back to gothic architecture up to modern towers from the sixties of the last century. The guided tour will involve the gothic ambit and contemporary reinforced concrete truss roof structure from the second half of the last century. A stunning panoramic view of Prague can be enjoyed from the roof terrace.