The official language of the conference will be English.
Simultaneous interpretation will be arranged for the main sessions. (CZE <=> ENG)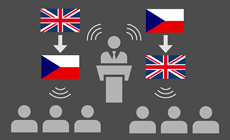 Latest
News&Events
17.10.2017
Conference Proceedings
http://iopscience.iop.org/
issue/1757-899X/246/1
14.08.2017
31.05.2017
22.04.2017
The conference is also held for the commemoration of the 80th birthday of Professor Zdeněk P. Bažant, who will give one of the keynote lectures.
23.03.2017
Prof. Dr. Peter JM Bartos will start FC2017 with the keynote speech — Glassfibre Reinforced Concrete: principles, production, properties and applications.
10.01.2017
Proceedings of previous conferences
07.01.2017
21.12.2017
29.11.2017

Important
Dates
Opening of the System for Submission of Paper
January 15, 2017
Deadline for Submission of Paper
March 15, 2017
April 10, 2017
Notification of Acceptance and Information about Form of Presentation of the Paper at the Conference
April 30, 2017
Submission of Reviewed Camera-ready Full Paper (Including the Changes Based on Reviewer's Comments)
May 30, 2017