The official language of the conference will be English.
On the conference will be arranged simultaneous translation for the main sessions. (CZE <=> ENG)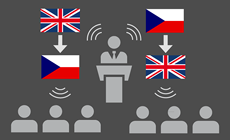 Download

Latest
News&Events
04.05.2015
The deadline for abstract submission was extended to May 17, 2015.
11.02.2015
Upload abstract application is in service >> please send your abstract
11.09.2014
New page added — Pictures of Prague

Accommodation
Please contact Conference Secretariat in case of any difficulty.
Terézia Němcová
Conference Secretariat
CTU in Prague
Faculty of Mechanical Engineering
Fibre Concrete 2015
Technická 4, 166 07 Prague, Czech Republic
Phone:
Fax:
E-mail:
Website:
+420 224 355 688
+420 224 352 666